$66,000 IN 36 HOURS MATCHING CHALLENGE
An unprecedented way for you to contribute and make a big difference for Jewish life in Idaho!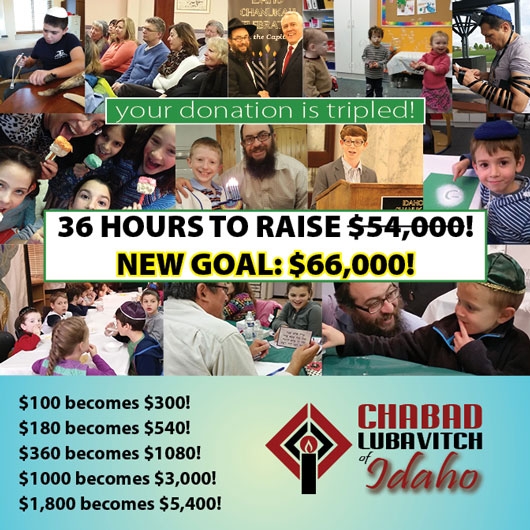 We are so excited to announce that we have made it! We are humbled at the outpouring of support from over 140 donors!
We want to thank  every one of our donors  (listed in the partners tab) for helping us reach our goal!! A special thank-you to our matchers!!!
Elliot & Sarah Tamir
Mikey Michaeli
Danny & Gabi Shapiro


Mel & Rochelle
Cherry Gulch Parent
Friends of Rabbi Mendel & Esther
Meir Palace
Richard & Kim Failla
Your support will go a long way to help bolster Judaism in Idaho. 
With immense gratitude,
Rabbi Mendel & Esther Lifshitz
Chabad Lubavitch of Idaho
*** 
A wonderful opportunity for our community to take a giant leap forward.
For 36 hours every dollar YOU give to Chabad Lubavitch of Idaho will be matched by a group of extraordinary benefactors to reach our goal of $66,000!
Every Dollar you donate is TRIPLED ! It's all or nothing - if we don't reach our goal we will not receive the matching funds. We are depending on you!
Several generous supporters have provided an end of year challenge to help Chabad continue to flourish and grow.
If you have any questions or need help with making a contribution, please call the Chabad Jewish Center at: 208.853.9200.
ABOUT CHABAD LUBAVITCH OF IDAHO
Motivated by a profound love for every Jew and spurred by boundless optimism in the goodness of humanity, Chabad Lubavitch of Idaho has set into motion a wide array of programs and events to serve the Jewish community in Idaho.
More about Chabad Lubavitch of Idaho.
THANK YOU!